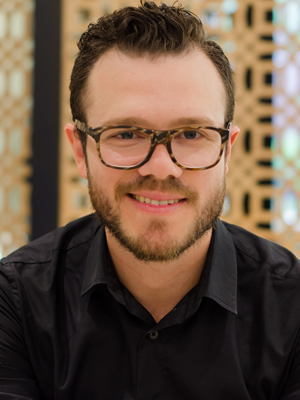 Tiago Ronones
Hair & Makeup Artist
Sydney
BIO
Brazilian born Tiago Ronones has been working as a professional makeup artist since 2010. Following his training and working freelance, he was discovered by the team at the largest Brazilian TV channel, TV Globo. In between his busy schedule on set, Tiago's talent was high-in-demand for work with photographic studios, theatre companies, fashion shows, weddings and more.
Since moving to Sydney in 2016 and providing private makeup services, Tiago's talent was quickly recognised, having been invited to work for music videos, TV commercials, product launches, fashion events, photo shoots and department stores Myer and David Jones.
Regarded as a consummate professional by industry peers and his regular clients alike, Tiago's naturally effervescent demeanour and warm, gentle manner enable him to deliver highly personalised service and work well both independently or as part of a team.
Tiago pays careful attention to client requests whilst using his knowledge of the latest trends and technical skills to enhance ideas and create quality, elegant and defining looks, transforming concepts into reality and generating lasting memories.
Credits for TV Globo include 'The Voice' (Brazil), 'Big Brother' (Brazil) and series 'Malhação', 'Pé na Cova' and 'Sexo e as negas' to name a few. As a resident Makeup Artist, Tiago regularly worked on soap operas, talk shows, live-to-air and special productions.
From actors to film directors, singers and bands to painters, photographers and stylists, Tiago's influences and interests include the creations and artistry of Steven Klein, David LaChapelle, Mario Testino, Cate Blanchett, Madonna, Frida Kahlo, David Bowie, Stanley Kubrick, Nicole Kidman, Natalie Portman, Gisele Bundchen, Fernanda Montenegro, Rita Lee, Donatella Versace, Pedro Almodóvar, Marília Pêra and Björk amongst others, being his fountain of inspiration.