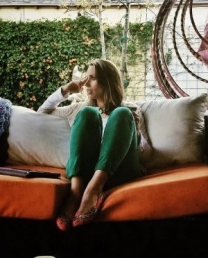 Sarah Dabro
Producer, Promo Producer
Sydney
BIO
Sarah is a Television Producer with over 12 years experience in Australia and abroad. Her skills range from Series & Studio Producing, Field Directing , Post and Promo Producing across a range of factual and entertainment genres.
Sarah's credits include network prime time programs including The New Inventors (ABC TV), Better Homes and Gardens (Seven Network) RBT & What's Good For You (Nine Network) where she was responsible for writing scripts, directing, working with talent and leading a production team to create stories.
She was instrumental in establishing Australia's first digital youth channel FLY TV (ABC TV) and in more recent years the development of Triple J radio as it made its foray into television and online.
Her Live Producing experience extends to the ARIA Awards and Channel [V]'s (Foxtel's)Big Day Out coverage, Series Producer for their daily studio show WhatUWant plus the Australia wide Billiabong Bus Tour.
Sarah has also worked on numerous pilots from concept development through to final production for the Seven Network, ABC 3, and Pouge Productions. She has also produced news documentaries for The Sydney Morning Herald and The Age online (Fairfax Digital).
At Channel 4 in the United Kingdom she was responsible for overseeing the creative process turning ideas into programmes across their music channels. At BSKYB and MTV Europe she produced a number of high end commercials and promos, Sarah has also worked within Network 10 as a Senior Promo Producer where she directed film shoots and worked with international talent.
Most recently Sarah has lived and worked in LA where she produced and directed corporate commercials and documentaries as well as development for an entertainment program with some well established comedy writers.