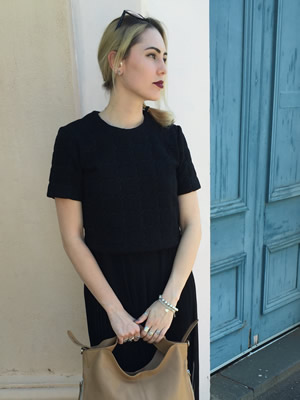 Milana De Mina
Wardrobe, Costume, Stylist
Melbourne
BIO
Milana De Mina is a Melbourne-based editorial and commercial fashion and wardrobe stylist. Her services also include costume design, personal styling and image consulting.
Possessing a strong creative flair, passion and an eye for detail from a young age, Milana has gained many years of experience in numerous areas of the fashion and film/TV industry as well as an Associate Degree in Fashion Design and Technology from RMIT.
Milana is a highly versatile stylist who has worked on television network sets and in studios; on independent productions operating as a one-woman wardrobe department; behind the scenes at a fashion label researching trends and helping to design unique yet commercially viable pieces; on music videos; on fashion ad campaigns and with hair salons creating hair collections utilising her handmade creations. In 2016, Milana was a finalist at the Australian Hair & Fashion Awards in the 'Fashion Stylist of the Year' category.
She has also spent over 10 years styling everyday people in high end fashion retail environments working with an array of age groups, body shapes and personalities, catering to a variety of needs ranging from bridesmaids to special occasions and corporate attire. This has given her a thorough insight and a solid understanding of consumer behaviour and commercial trends, which is something she is always mindful of when bringing her client's vision to life.
Milana's aesthetic can be described as timeless, traditional yet distinct, with her individuality portrayed in her work through her unique perception of texture, colour, shape and textile. In addition to a large contacts list, her imagination together with her technical knowledge and skill in garment construction and pattern making enable her to create custom designs tailored to her clients' projects.