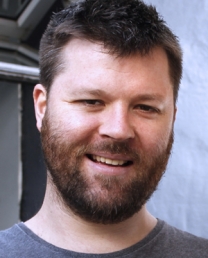 Mark Parry
Editor, Motion Graphics
Sydney
BIO
Mark's passion for production began the day he got his mitts on his neighbour's JVC handycam at the ripe age of 6. His first film, "The Incredible Rolling Man" did not make the Oscars that year, but did serve as a springboard for an obsessive passion for storytelling in the video medium.
During school, his weekends consisted of harnessing his editing skills on a modest home analogue video recorder and a steady dose of movie viewing. His major work saw him cut his teeth on a James Bond spoof. One scene had him and his mates scale the harbour bridge to send a dummy down a 40 metre drop. It proved worthwhile in the end, as the project topped the form. And no one got arrested.
Mark continued his studies with stints at NIDA, AFTRS and Syd Uni. During university he received 2nd place for his major work "Life on Broadway", a doco that followed the lives of 3 traffic windscreen washers in Ultimo.
Following graduation, he worked as a freelance editor before landing a position at DDB. His scope of work covered commercials, online content, pitch videos and motion graphics, working on some of the world's most recognised brands, including McDonald's, Volkswagen, Audi, and Gatorade. In 2006, he took out employee of the year (which basically means his editing suite became his bedroom and he forgot what the sun looked like for 52 weeks).
He had the pleasure of working on Tourism Australia's wildly successful Making Tracks campaign, taking creative lead in driving the narrative . The campaign won Best in Show & Best Social Marketing at the Interactive Bureau Awards in 2011, and finished runner up at Cannes, One Show & Spikes.
DDB highlights also included producing the award entries for McDonald's Australia Day campaign, which landed a clean sweep through Cannes, picking up Gold, Silver and Bronze. Lowlights were having his pants rip into 2 halves while playing table tennis.
Despite a skill-set in motion graphics, Mark is an editor at heart, highlighted by his entry into the 90 to 5 editing competition taking out 1st place in 2012 – the first year of competition.
Mark continues to embrace the world of visual storytelling with the same enthusiasm of that little boy armed with the handycam all those years ago. He is a strong believer that although we all get stuck in the daily grind, it's important to remember why we pursue our chosen path – because there is nothing else we would rather do.