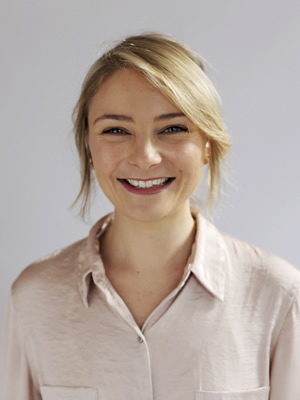 Lucy Whirledge
Production Co-ordinator, Production Manager
Sydney
BIO
A Content Production Manager with 7 years' experience working on the production of animation, video effects and self-shot content for online films.
Lucy has worked on some fantastic projects and helped produce visually engaging films on time and on budget. Recently worked with Just So films where she was involved in some innovative interactive user experiences allowing her to stretch her creativity.
She has worked across multiple projects simultaneously demonstrating her organization skills and ability to pre-empt the processes in a project. She is very capable of coordinating the production process, from hiring talent, to managing budgets and schedules, while adapting to the client's brief in a professional manner. She been surrounded by Directors, Creatives and Strategic Planners for years and knows how to manage people through the notions of producing digital videos. She is also aware that things may not always got to plan and being able to focus on positives and work with an open mind to drive forward is very important in this industry.
She is very precise with recording legal documents from Insurance, Release Forms, NDA's and Invoices before any of the practical activities go ahead. She has a professional approach when it comes to rates and understands confidentiality is very important. She also documents all the locations she has used, fees and photographs of anything useful for future projects.
She understands the role must be led by someone who can manage communication during the production process and to ensure every interaction is productive. She has coordinated the communication between clients and directors and always creates the most efficient environment. This means everyone in the room is on board with the idea and able to play their part.
She is very happy with an admin-heavy based role and loves an excel sheet. She aims to keep all her work transparent so colleagues can always process the information she provides. She enjoys working in large teams and as a people-person can demonstrate the benefits of collaborative work. Her personality yearns for a challenge and she understand how this industry can demand you take on new tasks.