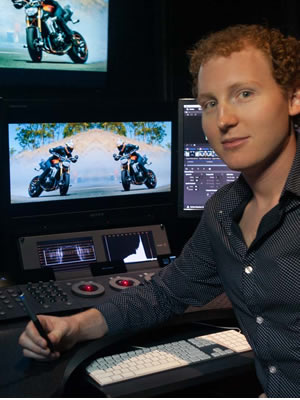 Jarryd Hall CSI
Camera Assist, Colourist, Camera Department
Sydney
BIO
Jarryd Hall CSI
Colourist, Camera Operator, Camera Assist
Jarryd is a freelance film and television colourist, camera operator and assist based out of Sydney, Australia. His colourist and camera credits include feature films (My Pet Dinosaur), TV specials (Head Above Water), TVCs (Red Rooster, Jeans for Genes, Vogue, ANU) documentaries, shorts and music videos. Jarryd's colour work is crafted using Emmy® award-winning tools such as DaVinci Resolve, and he prides himself on providing friendly personalised service, being technically savvy without the technical confusion, and using visual story telling skills to collaboratively bring images to life.
Jarryd began his career as an editor and camera assistant, working up through the ranks of camera department. His love for cinematic images began with the birth of the RED ONE Digital cinema camera, where he became inspired and focused on cinematography, camera technologies and post-production images. Following in the footsteps of some of Australia's best filmmakers, he continued his training at Australia's national screen arts and broadcast school, the Australian Film Television and Radio School, with a focus on cinematography and colour grading.
Jarryd is experienced with grading and shooting on a wide variety of cameras, including the ARRI ALEXA (Classic, Plus, Amira, Mini), Sony CineAlta (F55, F5, FS7, FS5) and a7 series, Panasonic VariCam (35, LT), RED Digital Cinema (ONE, EPIC, DRAGON, WEAPON), URSA Mini (4.6K, Pro) Canon Cinema EOS (C300, C200, C100) and more.  Additionally, Jarryd also assists with production workflows for fellow cinematographers, from processing of camera testing, LUT creation for creative look monitoring on set, to onlining and output delivery formats, including broadcast delivery and digital cinema packages (DCPs). Jarryd is also well versed in data-safe management practices.
As a full member of the Colourist Society International (CSI) and the Australian Cinematography Society (ACS), Jarryd is continuously driven to provide his clients the best images with consistent looks, mood and style for television, cinema and the web. Full manual drivers license and passport ready.